December 21st 2012
Re: Long Awaited Return Of New Observations Magazine, February
From: Artist Organized Art
To: The Subscriber Email Address
Subscribe
|
Unsubscribe
|
Join us on Facebook
or
Google+
PLEASE HELP: New Observations Magazine Needs To Cover Printing. Donate Easily On Our Page
LONG AWAITED RETURN IS FEBRUARY
New Observations Magazine #129
The Way Of Art On The Loose
The Long Awaited Return Of New Observations Magazine Comes In February
Issue #129 Out Of The Box (The Way Of Art On The Loose) is packed with remarkable, rare, unique, cutting edge and archival content from some of our community's most engaging members.
www.gofundme.com/newobservations
But We Need Your Help To Cover Printing
Please Donate Whatever You Can And Share This
www.gofundme.com/newobservations
It's Easy To Donate At Our GoFundMe Page
Happy Holidays Everyone And Thanks For The Support!
Erika Knerr, Publisher — NEW YORK
New Observations magazine
Issue 129 OUT OF THE BOX – The Way of Art On The Loose
Guest Edited by Joshua Selman
New Observations Press
New Observations is a conceptual print magazine published by artists for artists and the greater community, as a work of collaborative art. After 128 back issues from 1981-2001 we are ready to print issue #129, twelve years later, as a limited edition. We need your help to do that.
We have put together a remarkable issue with Guest Editor, Joshua Selman. The offset printing of our 129th Issue, "OUT OF THE BOX – The Way of Art On The Loose," reintroduces the magazine exploring alternative ways that artists have interacted with art making and their communities, bringing together seminal artists from Fluxus, Street Art, Correspondence Art, Contemporary Intermedia, Experimental Utopias and beyond. We are presenting artists who have reacted to social conditions that lack flexibility, by distributing work either for free, or outside of rational transaction, loosening the exchange structures in their communities, through various offerings.
We have inside coverage of Lance Fung's Artlantic Wonder, the five year Art Park being created in Atlantic City and how the first phase, with installations by Robert Barry, Ilya and Emilia Kabakov, John Roloff and Kiki Smith survived hurricane Sandy to open to the community, in just a month of its aftermath. Alison Knowles created a piece for the issue titled "Out of the Box," that was also performed on SWITCH TV in Holyoke, MA and documented for the magazine. Hannah Higgins has contributed a meditation on Buckminster Fuller. We have a feature section from very rare, never before seen documentation from the Larry Miller Archive that is being guest designed by Sara Seagull. We are also very happy with our New Logo by guest designer, Betsy Brecht.
And there is much, much more, promising an exciting and important re-launch.
Contributors:
Robert Barry, Mark Bloch, Christoph Cox, Buckminster Fuller, Lance Fung, General Idea, GLOVE, Ilya and Emilia Kabakov, Erika Knerr, Alison Knowles, Layman Lee, Larry Miller and Sara Seagull, Hannah Higgins, Jessica Higgins, Gaia, Lucio Pozzi, John Roloff, David Shapiro, Kiki Smith, Alex Stern, Sarah Sze, Lucja Wasko-Mandes, Ryszard Wasko and others…
www.gofundme.com/newobservations
Our Target is $8,000.00. Our priorities for funding are Printing & Distribution Costs. We are printing 64 Full Color Pages with TigerPress of Western Mass!
Come to the re-launch event in NYC! The community is invited to celebrate the achievement. As soon as we have the printed edition look for your personal invitation.
With Gratitude,
Erika Knerr
Publisher and Designer
For more information:
www.newobs.org
New Observations LTD is a 501(c)3 non-profit organization dedicated to bringing artists' voices to the public forum through a guest-edited arts journal founded in 1981. Its editorial program allows for freedom of thought, expression and experimentation, offering artists the opportunity to explore in-depth thematic topics.
New Observations is a registered trademark.
www.gofundme.com/newobservations
——————————-
——————————-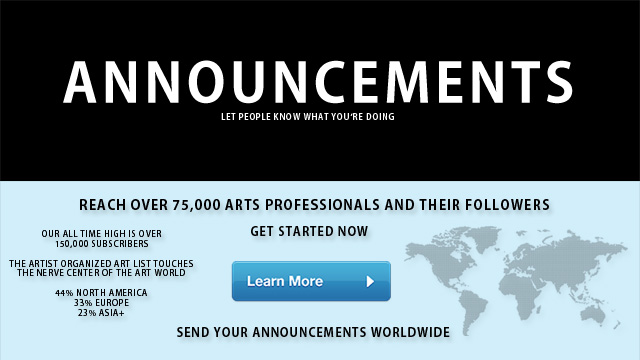 ARTIST ORGANIZED ART
Each Announcement Now Comes With An Inclusion In Our Newsletter At No Additional Cost
Let people know what you're doing. Our low cost announcements reach over 75,000 arts professionals and their followers. Get started sending announcements about exhibitions, book launches, crowdfunding campaigns, concerts, broadcasts and more. Our all time high is over 150,000 subscribers. Our qualified list touches the nerve center of the international art world. 44% North America, 33% Europe, 23% Asia+ and beyond. We can help turn your next release into a global fact at a fraction of the cost. We are a 501(c)(3) non-profit supporting artist organized media, events and cultural education. When you sponsor an announcement with us you support artists working in communities everywhere in the world. Learn More.